Update 5.1a is here and we have an announcement to make!
---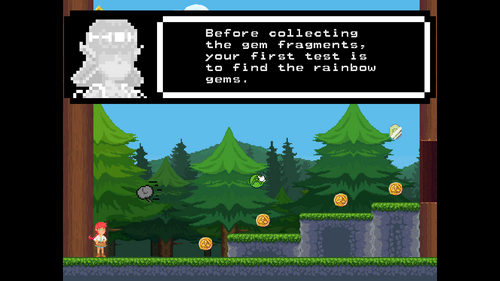 We've changed 3 major things on the game!
First, we've added fullscreen compatibility, we hope this will make the game more enjoyable for many people since window mode doesn't support many screen resolutions.
Second, you can find an option to change the cursor speed on the pause menu. This is targeted mainly to gamepad users, since movement with the right joystick was a little too fast for some.
Finally, the old white rock tileset is gone, we got a lot of comments about how the art style doesn't look uniform and certain objects don't fit at all or look ugly, the background trees and the tileset were two of those things so we changed them first. We are changing many of the other assets to fit the general art style of the game, but also, there's gonna be a change on the color palette to give a more dream-like look and feel to the game.
We will reveal the new look of the game as soon as it is ready, so stay tuned on our social media for more updates :)
Other minor fixes:
- Fixed crash while playing on spanish.
- Fixed some spanish texts.
- Added visible que on destructible platforms instead of suddenly breaking.
- Fixed some menu layouts.
Files
Solaris Aisling 5.1a Demo (Windows).rar
17 MB
Dec 20, 2017
Solaris Aislinig 5.1a Demo (OSX).zip
25 MB
Dec 20, 2017
Get Solaris Aisling (Alpha Demo)